Palmela G – High End Custom Swimsuits at Affordable Prices
"My mother always taught me 'greed gets you nowhere.'  So, I do have high quality fabric, but I don't tag an extra charge because of a name."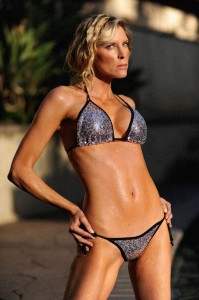 If you want a swimsuit that fits you perfectly, and accentuates your positives and hides the negatives, you have to visit Palmela G Swimwear on West 3rd Street in Los Angeles.  I visited her shop recently upon the recommendation of boutique owner Eveline Morrel of EM & Co.    It was a modestly decorated boutique, but very appropriate for the area—trendy and intimate, as are most shops on this strip.  Palmela G walked me through her store.  I saw where she makes her patterns and sews; and in the front the walls are covered with spools of fabric, ranging from spandex to sequins.  After talking with Palmela and photographing her suits on our spokesmodel, Lindy Flowers, I'm a true believer of custom swimsuits.
Interviewed by Kaylene Peoples (boldface)
Responses by Palmela G
Palmela, what made you decide to start designing swimsuits?
My mother's bikini, her velvet bikini back in the 70s when I was just a little girl, inspired me to do swimwear.  Black velvet, big rings, love love love it, and it was just so beautiful to me.  I just always had an idea to design swimwear even as a little girl.
Tell me abut some of your background and how you got started designing.
I actually had private training for my designs for a couple of years, worked with a company and branched out on my own.  Freelanced to start and then got a store, which also acts as my workshop.
Wow, so you're definitely an entrepreneur.
Yes.
Did it take you long to get started?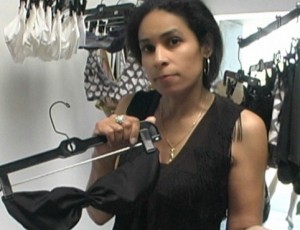 About three years after my training, I picked up quite a few clients, and it was word of mouth from there.  I never really advertised.  The kind of work that I do, I help a lot of people.  It goes really deep.  I deal with cancer patients—they lose their hair—I have swim caps.  I just do a lot with patients as well.  I think my work is not just swimwear.  It runs much deeper than that.  I could probably write a book on the stories that I've been told from the women that I fit and how I've helped them.  So there's something deep about my work.  It's not just swimsuits.
Could you tell me about one of the women you helped?  I heard a story about a woman who had breast cancer.  She underwent a mastectomy and there was some scarring.  She was elated after wearing one of your custom swimsuits.  Please tell me a little more about that.
I had created a top for her, and I actually gave her boobs with the molded cups.  I actually made a top and sewed the cups in there, and it gave her basically a B-cup.  She had no boob.  One was gone and the other one was a flat A.  She actually cried in the dressing room.  And that's when I stepped out—you cry, you make me cry.  She came in afterwards very happy a couple of days later to visit me and cried again from happiness.  This was her first swimsuit and she was in her mid-forties.  She never had a swimsuit before because she had body issues, and now she lost a breast.  So she was never comfortable.  There was something special about that one.  Being in her mid-forties and this was her first swimsuit, there was something deep about that situation.
She was a small A and then had nothing on the other side?  That's really custom.  You had to create the cup sizes differently on each one.
Yes.
Was that very difficult to do?
Not so much difficult, but tricky.   I've done it before, so it's not my first time.  And now it's something that I pretty much know how to do.  If they come in the door, I already know what to do.  It's not difficult anymore, and it doesn't matter what size they are.  I have women coming in that are uneven (one breast is larger than the other), and kind of the same thing applies.  There's no woman I can't fit.
What would you say was the hardest body type that you've ever had to fit, if there is such a thing?
For me there's no such thing.  There's no body type out there that's hard for me.  I can fit anyone.  It doesn't matter what your size is, and I actually can create a shape depending on the construction of the suit.  I can create a shape for you.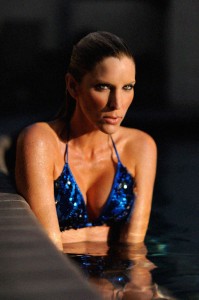 Let's say a woman is pear-shaped, but she wants the appearance of an hourglass figure.  How would you go about creating a swimsuit for her?
It could be something as simple as putting pads in the top.  The construction of the top versus the bottom can make it even. So you don't want to put, let's say a Brazilian, which is a very tiny top on top and then a full size bikini on bottom.  You have to even it out with the amount of fabric.   My biggest thing is construction of my swimwear.  I don't have 50 styles in my store.  I'm not a typical retail store.  I make a few styles, and I make them well.  I believe in high quality fabric, but as far as making a woman even, not a problem. It's the amount of fabric.  It could be something as simple as pads.  Some people are really big on top and small on bottom.  So, it's all about the style of the suit.  That's why it's very important to mix and match.  And it's very important to customize to the body because if that is the case, then going off the rack would be difficult—it's not going to make you look as good as if you got a custom swimsuit.
What are some of your fabrics?  I notice you have some very high end fabrics.
My sequins are high end.  All my fabric goes in the water.  I know people look at the sequins and they don't think they can swim in it.  Sure they can.  I test everything in the water—chlorine and salt water.  Everything that I have in the store goes in the water, from my lycras, soft motion (which is more of a cottony spandex), my sequins, and ruffles, which are a very flattering top on the body, and also a lot of girls who are more like A-cup, B-cup love the ruffles because it actually adds a dimension.  It can even add up to a cup size on their boob.  Also can give a little something to the bum.  Even if you have a larger bum, the ruffles are still cute.  It just depends once again with the ruffles.  I have flatter ruffles, and I have higher ruffles.  When I say higher, I mean the volume of the ruffle is higher.  If you are larger, I would avoid the higher volume ruffle and just go with the flatter ruffle.  All those little details are very important.  That's why I carry so many different types of fabrics.
What are your price points for some of your suits?
I charge $110 – $195 for a 1-piece or 2-piece.  Generally, the $195 range is the sequins and higher end fabrics.  Otherwise, your metallics, lycras . . . I don't really change the price on that.  That's $110-$120.  $150-$195 is your sequins, ruffles, and crochet, just because it costs more.  It takes longer to make, and the labor is double.  So even cutting it takes double the time versus a lycra or a metallic.  I don't just jack up the prices just because something is sequined.  There's a reason behind my prices.
Well, they're all handmade suits.
Absolutely.
That right there brings the price up.
The thing is, I don't really charge for custom.  It's something I don't advertise, because it's pretty much unheard of in the design world.  There's always a price to customizing.  I don't do that because I want my suits to fit.  I care about my work.  I have a very deep passion for my work and I want my suits to look good on women period.  So I don't nickel and dime.  I'm not outrageous with my prices.  I know generally there's a company—$300-$500 starting range for custom.  I think that's just not necessary.  I think my prices are fair for the work that I do, and I don't believe in overcharging.  My mother always taught me "greed gets you nowhere."  So, I do have high quality fabric, but I don't tag an extra charge because of a name.
Highest High and/or any Lows?
Highest high is everything that I do.  I think when the finished product comes about and the women try it on, that's my highest high.  I have people laughing.  I have people crying with joy.  That is my highest high.  I've never had a low moment since I began this work.
You've sort of been giving tidbits of advice from Mother's quotes, but what advice would you give someone who wants to design swimsuits?
Start slow.  Build up a clientele.  Don't rush out and get a store.  Swimwear is seasonal.  It took me years to build up my clientele.  And many of my clients do go on  vacations.  So I'm lucky to have them all year round.  But it is a tough business because swimwear is seasonal.  It doesn't matter that you're in Los Angeles or in Florida . . . it's a little tricky.  It's not just your retail clothing business.  You really have to focus on your patterns.  Otherwise you'll become just any swimwear designer.  Be unique. Do not copy.  I do not like copycats—it's a pet peeve; and be original.  Work on the construction of your suits.  I'm the type of person that is always willing to help people.  I get people coming in who are in design school.  I try to help them and give them advice and wholesale information.  But I will not let anyone touch my designs.  I won't let anyone touch my patterns or cut.  I do everything myself. I do not send my work out.  I have to be in control of my cutting.  It's so important with swimwear.  If you cut outside the line, it's messed up.  That's how detailed swimwear has to be, especially when you're customizing.
In your shop, you have bikinis and swimsuits on display.  They will still fit somebody who just wants to buy it off the rack?
Absolutely.  I do have my styles on the rack and it's for sale.  Ninety percent of the time people want to pick their fabric and have it made for them.  Custom swimwear is the thing to do.  It's the way to go.  If you really compare my price versus off the rack, there's really not much difference.  So why go elsewhere when you can get something customized?
What's the turnaround time?
1-3 days.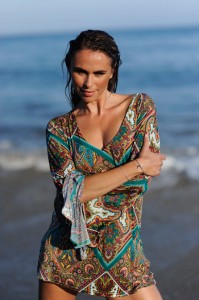 Palmela G also designs very hip cover ups.  I couldn't believe how amazing this design was until I actually tried one on myself.  After she created one for me, I have since received non-stop compliments!
Palmela G Swimwear
7922 W. 3rd Street
Los Angeles, CA.
(888) 849-3550
Check out the Palmela G Swimwear fashion editorial featuring Lindy Flowers, and Photographed by Arun Nevader.
Interviewed by Kaylene Peoples